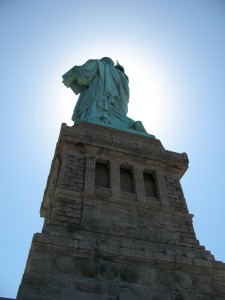 Last week, I went to New York City.  I did a lot and saw a lot, so it'll likely take a few posts to share it all with you.  As I mentioned, my publisher flew me in for business, but I tacked on a couple of extra days to do some sightseeing.  It was the kind of trip where you feel like you need another vacation afterward just so you can recover.  But it was an amazing experience, and I loved it.
I've only been to NYC once before, as a kid.  My family was living in Maryland back during the heyday of Phantom of the Opera, and one day my dad drove us up to New York to see it on Broadway.  I remember a few things about that trip, little details here and there, but I didn't come away with a real sense of the city.  It was great to go back as an adult.
Our flight was late getting in, first because we had a freakish snowstorm in Salt Lake City and had to wait for them to defrost the plane, and second because JFK was a mess and we had to wait on the tarmac for a while before our plane could squeeze into its little parking space at the terminal.  There was this guy sitting next to us who really seemed upset by the delays.  At first, he was just shouting into his cell phone in a language that sounded Russian.  But the longer we waited, the more agitated he became.  When people got up to use the restroom, he'd gesture at them and yell what I assume were Russian swear words, because the flight crew kept saying that the pilot couldn't move the plane until everyone was seated.  Then he started punching the seat in front of him, jarring its occupant, who pretended that the whiplash didn't bother them.  By the time we were safely parked at the gate, all the passengers around this guy just let him get off first – "No, no, Mr. Swearing Russian Man, I already missed my connecting flight, so why don't you go ahead of me."  Sheesh.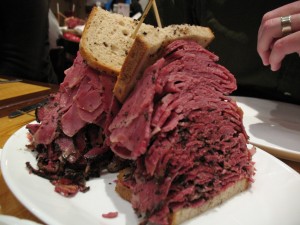 From JFK we caught a cab into the city.  Scholastic put us up in a hotel right off Times Square, which was pretty much an unbeatable location.  It wasn't too late in the evening, and we were hungry, so we took a look at the map and decided to go wander around a bit.  We walked a few blocks up to Carnegie Deli, which is kind of a tourist spot, but still a landmark that serves great food.  I ordered the "Woody Allen," a monster sandwich of corned beef and pastrami, enjoyed some hot sauerkraut, and ate a few half-sour pickles.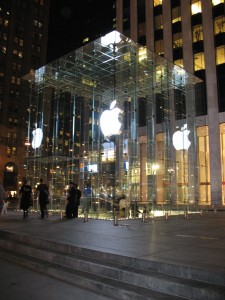 Then we wandered over to the Apple Store, which I looked at but did not go inside because we didn't have time. (That's just what I tell myself.  The real reason is that I'm not cool enough to go inside.)  Then we walked to Rockefeller Center and watched the ice-skating.  I have to say, I was surprised by how small that rink is.  It's the smallest ice-skating rink I think I've seen, but considering the little slice of real estate it occupies, it's probably the most expensive ice skating rink on the planet.  But there were some talented skaters out on the ice.  One of them looked like he was ready for the Olympics, and another kid was just doing his own thing – a mix of hip-hop and skating.  Really cool to watch.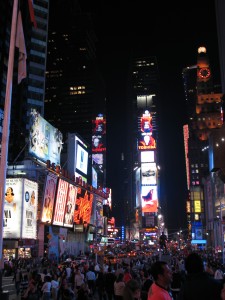 We walked through Times Square, which is a lot like walking down the Vegas Strip.  It was kind of overwhelming; full of light, and people, and energy.  The one thing it didn't feel like was New York City, which is weird because the two are practically synonymous.  But everywhere I looked I saw generic America – "Oh, look.  There's T.G.I. Fridays.  There's the Hard Rock Cafe.  And there's The Olive Garden."  The Olive Garden??? Really?  On the one hand, I understand it.  People want to experience new things, but they want it with the safety net of the familiar beneath them.  They may be in a strange city, but if things get too stressful they can always take refuge in the menu of the chain restaurant they eat at back home.  I get it.  That's just not what I went to NYC for.  But it was still cool to stand there in the center of it all, where they drop the ball on New Year's Eve, and think about how many people from all around the world have been there on that same spot.  Boggles the mind, it does.
Stay tuned for more.