For part 1, click here, and for part 2, click here.
After putting in a day-and-a-half of sightseeing, it was time to get down to the business that brought me to NYC in the first place.  So Thursday morning the Scholastic Book Fairs film crew came to pick us up at our hotel.  The members of the crew were great.  We had Larry (director), Jeff (the camera man), Glenn (the sound man), and Lara (who did a little bit of everything).  We all sat down and had breakfast together, and then set off into the city.
The Book Fairs brought me to NYC to film me for some promotional material related to The Clockwork Three.  As we get closer to the book's release date, and when people might be able to watch the promotional video, I'll tell you more about it.  (That still feels like a long way off.)  But briefly, the idea was for the Fairs to film me talking a bit about my book and its characters. 
The Clockwork Three takes place in an unnamed fictional city that's not quite New York, not quite Boston, but inspired  a little by both.  So Larry had scouted out some locations around NYC that evoked certain settings and moods from my novel.  The city in The Clockwork Three has a park, an important place in the story for a number of reasons I don't want to spoil.  So naturally, Central Park seemed like an ideal place to film some of the shots.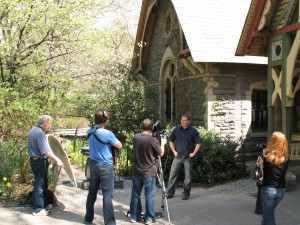 First, we filmed in front of The Dairy.  Giuseppe, one of the characters in the The Clockwork Three, was inspired by a real 19th century boy who once found food and shelter there (and who I'll probably write about in more detail in a future post).  This was, incidentally, my first time in front of a camera.  I felt very… awkward.  It wasn't that I was nervous.  And I did pretty well remembering the lines they gave me.  But I just couldn't seem to make those lines sound natural.  I wish I could have been more excited and animated, like LeVar Burton from Reading Rainbow, but instead I sounded like Dan Rather reporting the nightly news.  Nothing against Dan Rather, but I don't think most kids find him very compelling.  I think I might have done better if I were in conversation or interview with someone else, talking with a person instead of a dead-eyed camera.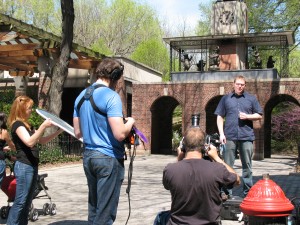 But I muddled through the first shot, and we moved on to the next location, the Delacorte Music Clock near the Children's Zoo.  At this point, I started loosening up.  Just a bit.  The director and crew had timed the filming so the clock chimed while we were there.  The animals started moving around the clock in a circle, and the bells played a slightly creepy song that sounded a bit more like a Tim Burton soundtrack than a nursery rhyme.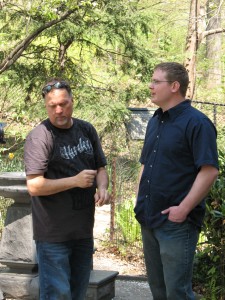 I should mention here that during all this time, Jeff was sick from food poisoning.  Like, really sick.  But he was a trooper and a professional, and he kept working to get the job done.  He wouldn't even let me help him haul his gear around because he didn't want me to get sweaty for the filming.  So hats off to Jeff, who continued to film whilst vomiting.
It didn't help that it was a pretty warm day, unexpectedly warm considering the season.  But in spite of the heat, I enjoyed walking through Central Park.  The foresight and commitment it took to set aside such a large piece of land in the middle of the city still amazes me.  I mean, that's some extremely valuable real estate, but the planners knew how important it was and would be to have a green space, first amidst the rising brick and mortar, later the towering glass and steel.  An open, public place of refuge and natural beauty.  I could have spent more time there, if I'd had it to spend.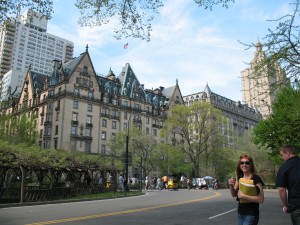 After stopping at a few more locations around the park, we ended up in front of The Dakota, another NYC landmark, chosen for its similarities to a grand hotel described in The Clockwork Three.  I have to admit I hadn't heard of it before, and didn't know how famous it was.  Nor that it was the location of the murder of John Lennon.  But we did stop for a moment at his memorial.
We took a break at that point to have lunch.  Jeff was really not doing well, so after we finished eating he went back to his hotel, and the crew shifted responsibilities around.  Glenn took over filming, and Lara took over sound.  We hopped on the subway (which was a bit tricky with all the equipment, but we managed) and rode down to the Lower East Side.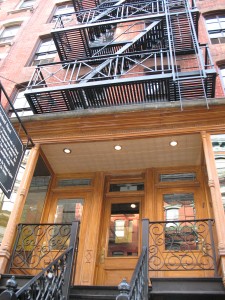 Some of The Clockwork Three takes place in the city's tenements.  So Larry found some old tenement buildings in NYC that have been there since the early part of the 20th century.  The NYC  Tenement Museum, a restored building constructed in 1863, was very near the spot where we were filming.  Over the years it was home to over 7000 immigrants, and today offers a glimpse into the lives of those who came to this country hoping for a new and better life.  I wish we could have filmed inside the museum, but we weren't able to make the arrangements.
By this time we had been moving and filming for about eight hours, and everyone was exhausted.  It was also that time of day when shop owners were closing up their storefronts.  And those metal gates they pull down and lock up are loud.  We went through a lot of takes there, waiting for a moment of relative silence.  But in the end, I think we got everything they'll need for the video.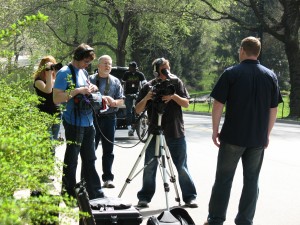 We all shook hands and parted ways.  It was a long day, but I had a great time.  What might have been a difficult experience was made enjoyable by the people I got to meet and work with.  Thanks again to Larry, Glenn, Jeff and Lara.  (And I meant it, Jeff.  The next time you're on a ski trip to Utah, give me a ring and we'll hit the slopes).
For dinner that night we rode the subway up to the Gray's Papaya at 2090 Broadway.  I've heard about the place from people, seen it in movies like Fools Rush In and You've Got Mail, and watched Anthony Bourdain extol the wonders of its hot-dogs.  So naturally I had to try them for myself.  I have to say, they were good, but my favorite part of the restaurant was actually the fruity drinks.  Papaya, Piña Colada, orange, coconut, and more.  I ordered a couple of those on top of the drink that came with my "recession special."
We rode the subway back to our hotel, and after a day like that I slept like a rock.
Next up, my day at the Scholastic offices.