Part 1, here.  Part 2, here.  Part 3, here.
So, after a long day of filming and a good night's sleep, the next morning we rode the subway down to a recording studio.  There I met Mary Gruetzke, the audiobook editor for The Clockwork Three, and Cheryl Smith, the audiobook producer.  Both women were very nice and welcoming.
I was there at the recording studio because several weeks ago, Mary suggested the idea of adding some "bonus" material at the end of The Clockwork Three audiobook, kind of like the extras on a DVD.  She and Lisa and I bounced a couple of ideas around, and eventually settled on something that I think will be really cool (but as with most things related to the book right now, it's too early to talk about in detail).  And since I was in New York City, they wanted me to record a brief introduction to go with the bonus material.
Being in a sound-booth was another first for me, and I was so struck by that little pocket of silence nestled right there in the heart of NYC, one of the noisiest places I've ever been.  I sat down at a microphone, put on a pair of headphones, and read the introduction I'd written.  But unlike my experience the previous day, I didn't feel awkward with the reading at all.  It went smoothly, and I think I read through it three times.  Each time, Cheryl gave me a little direction – "Put more emphasis on this word." "Read this section more slowly." – and then we were all done.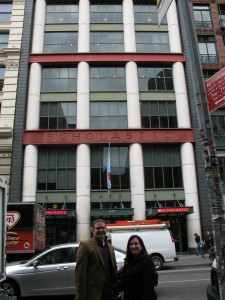 After that, Mary got us a cab, but we had a few minutes before we had to be at the Scholastic offices, so she took us to see Union Square.  They have a really nice farmer's market running there a few days a week, which we walked through and enjoyed.  If it had been lunch time, I could have easily made a fabulous meal of artisan cheeses and meats, with some crusty bread.  But as it was, we just looked and then got in another cab.
The Scholastic Building is in SoHo, and even from the outside it has a very different vibe than the publishers with their offices up in Midtown.  Mary showed us in, we got our visitor badges, and went up to my editor's office.  It was cool to see where Lisa works.  Her office was as filled with books as I expected it to be, and to be honest, I was a bit envious.  I don't currently have the shelving to load my office up with all the books I own.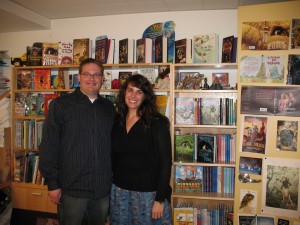 I was supposed to give a reading at an office reception that afternoon, so Lisa and I talked about what I should read and settled on the passage where Giuseppe plays the green violin for the first time.  After that we started a series of meetings.  I met my publicist, Samantha Grefé, and we went downstairs to film a "5 Questions" feature that will appear on the Scholastic On Our Minds blog in a few months.
Lisa and Samantha took us out for lunch, and my agent, Stephen Fraser met us at the restaurant.  Steve, ever the gentleman, brought flowers for the women.  Now, I don't intend for this blog to become a food blog, but as much as I love food, I think it's inevitable that I'll mention it now and again.  So let me just say that we had another delicious meal.
Afterward we went back to the offices and sat down with the Sales and Marketing teams.  Everyone was so amazing and enthusiastic about The Clockwork Three.  But more than that, I could tell that every single person I met was passionate about children's literature in general, and I once again felt lucky to at least be a peripheral member of the Scholastic family.  Oh, and something else I thought was pretty cool: they have the company credo printed on their carpet.
We then went to the office reception.  There were lots of people there, some of whom had already read The Clockwork Three.  I started out by talking a bit about the inspiration for the book, and then I gave the reading.  I think it went pretty well, although I did read a little too quickly.  I need to just get in the habit of slowing down when I do these kinds of things.  After the reading, I signed a few ARCs for people that had them.  And then Scholastic's CEO Dick Robinson walked in.  I was pretty excited to meet him, and to tell him how much I appreciated the speech he gave in Bologna.  He had me sign an ARC for his son, which I was very happy to do!
We finished up the day with a quick meeting with the foreign rights team, who have been working very hard and done a tremendous job of handling the foreign licensing of The Clockwork Three.  I'll let you know more when I can, so stay tuned for announcements on that front.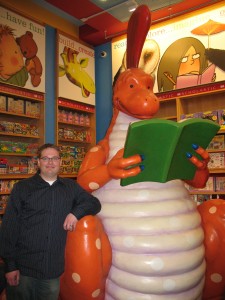 After that meeting, Lisa and I chatted some more (I noticed a Cylon perched on one of her bookshelves, and found out we're both Battlestar Galactica fans) and then I went down to the Scholastic bookstore on the building's ground level.  I understand it's a favorite destination for neighborhood parents and their kids.  It would be one of mine, too, if I lived in NYC.
All in all, it was one of the best days of my life.  Really.  I felt so welcomed, and everyone was so friendly and complimentary.  It was honestly a little overwhelming, but in such a wonderful way.  I feel very lucky, very grateful, and I owe a special thank you to Lisa for putting it all together.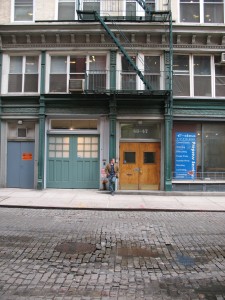 One block over from the Scholastic building lies Crosby Street.  That name might be familiar to those of you who have read The Clockwork Three.  I've already mentioned that one of the characters in the book, Giuseppe, was inspired by a 19th century boy from NYC named Joseph.  He lived, or rather, was imprisoned at No. 45 Crosby Street.  So after I left the Scholastic offices I had to go see the address myself.
The experience was very moving.  As you can see in the picture, the building has changed from what it was in the 1870's when Joseph lived there, but the street has not.  Those are likely the same cobblestones that Joseph walked across every night on his way back to his master.  I'm glad I got to see it.
We met a writer friend of mine, Kate Milford, for pizza at a place called Lombardi's.  Kate's debut novel, The Boneshaker, will be released this month, and it's getting tremendous reviews.  I've read it, and it's wonderful, and I will put up a more lengthy post about it soon.  After dinner, we had planned to go see the Tim Burton exhibit at the Museum of Modern Art, but when we got there we were very disappointed to learn that tickets for the evening were sold out.  We decided to still try to see some of the museum (even though it was closing soon) but ended up spending more time checking and claiming our bags than we did looking at actual art.  Plus, they made me carry my laptop around.  Not the bag.  Just the laptop, which for some reason could not stay in the bag when I checked it.
After leaving the museum, we were lured into a restaurant claiming to have "the best cheesecake in the world."  It did not.  But it was in New York, so I suppose that made it New York Cheesecake, and it was nice to spend some more time talking with Kate.  Afterward we said goodnight, Kate got on the subway, and we went back to our hotel.
I called Lisa because earlier in the day she had invited us over to hers and Liel's apartment.  I called assuming it would probably be too late, but they said no, come on over.  So we did, and had another lovely time with them, talking and laughing into the early morning hours.  I feel very fortunate that not only do I have in Lisa a trusted and talented editor, but also a great friend.
Up next, last day, last NYC post.