More on the title of this entry in a moment.  First things first.
I had one more entry I'd planned to write on my trip to NYC.  But that series of posts has already gone on longer than I'd planned, and anyway, the final day was mostly comprised of waiting in lines and passing through multiple security checkpoints to see the Statue of Liberty and Ellis Island (with an evacuation of the Statue due to the smell of burning rubber thrown in).  Rather than go into that whole ordeal, I figured I would just post a few cool pictures we took and move on.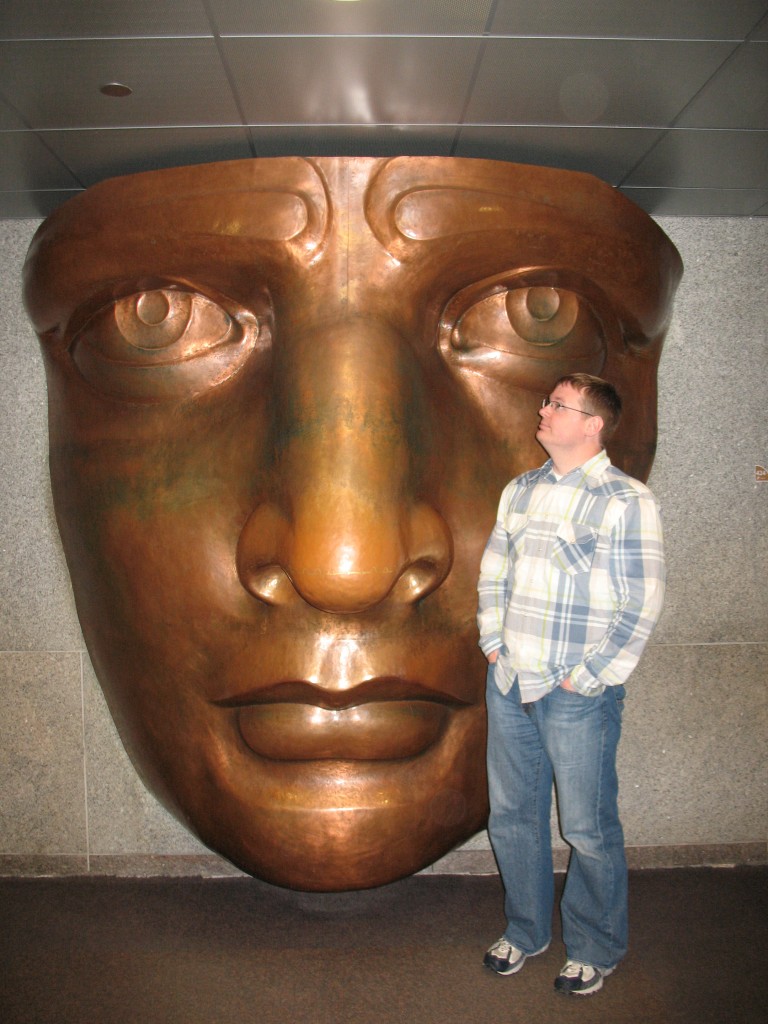 A life-sized replica of the Statue of Liberty's face.  Note: in this photo I am either contemplating the meaning of Freedom and what it means to be an American, or I'm staring at that spot on the ceiling.  Can't remember which.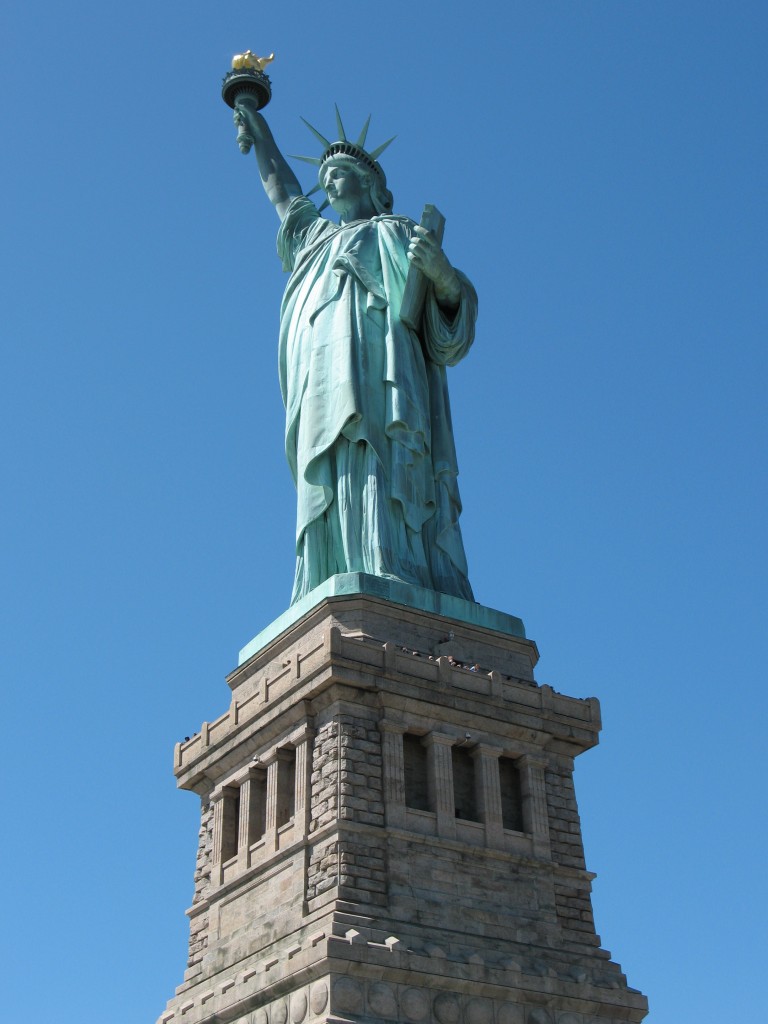 She truly is impressive.  Another note: prior to visiting the Statue of Liberty, I had no idea she was green.  I am color blind, as you may recall from my stint as the Green Spy.  I've always thought that Lady Liberty was kind of an off-white marble color.  Mind you, knowing she's green doesn't mean I can see it, but it's nice to feel in the loop.  (Other things that are green, which I only learned about in the last few years: pistachios.)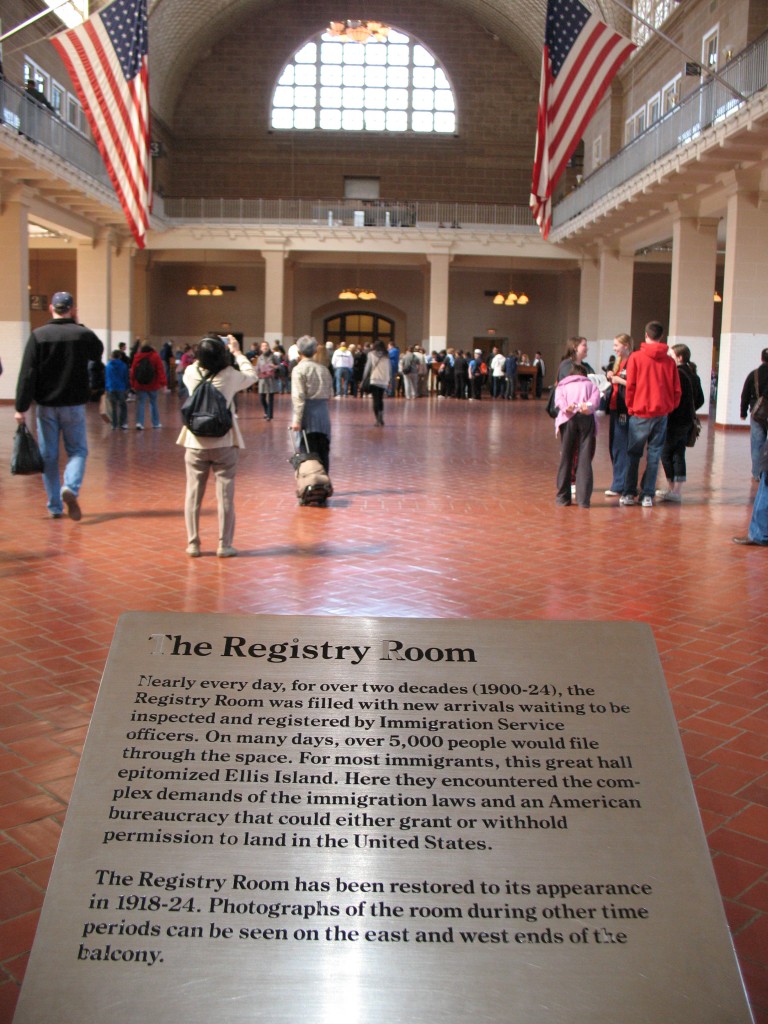 Ellis Island.  I wish we would have had more time there.  It is a place steeped in significance, and I'm not sure whether that feeling came from the meaning I imposed on it, or whether it came from something external to me, a residual imprint left behind by those whose lives were changed by their passage through its halls.  Either way, it was a memorable experience.
From the balcony I saw this child walking alone in the light across the Registry Room and had to take a picture.
And that's it for NYC, I think.
______________________________
And now, Doctor Who (with a warning that this will be pretty geeky).  Oh, where to start…
I used to watch Doctor Who as a kid, the Tom Baker incarnation, with his trademark too-long scarf and unnatural affinity for Jelly Babies candy.  I loved that show, I think because it was so random, and weird and so different from most American TV programs.  I mean, what other show would take a slow-moving tank of a robot shaped like a salt-shaker, with a toilet plunger for a hand, and turn it into the most menacing being in the universe?  And yet, that's exactly what they did with the perennial Daleks.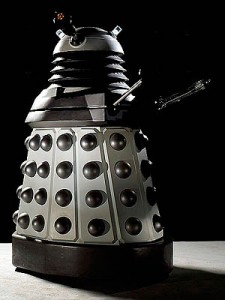 And they totally pulled it off.  I bought it completely, mostly because the characters were so engaging.  I loved the Doctor.  The Tom Baker Doctor.  And that's the problem with the show, and why I'm so frustrated and puzzled by it.  You see, when the Doctor dies, he regenerates with a brand-new body, to be played by a new actor.  Since the show holds the record for the longest running science fiction show in the world (and here is where I thank Wikipedia, to simultaneously cite a source and give myself an out if it's wrong, because hey, it's Wikipedia) there have been, at present counting, eleven Doctors.  And I can't figure out how the show has lasted so long.  Not because it isn't good, but because as a kid, after Tom Baker's Doctor regenerated into a new actor, I lost all interest.  Who was this new guy calling himself the Doctor?  Where was his scarf?  Where were his Jelly Babies?  He was all wrong.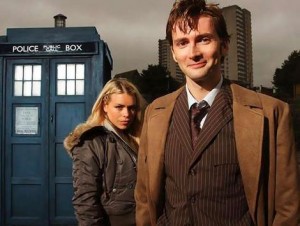 The show went off the air in '89, and was then brought back in '05, refreshed and rebooted (while remaining charmingly and bravely true to the original).  I still had little interest, but a couple of weeks ago I decided to watch an episode out of mild curiosity.  And then I watched another.  And another.  And I got hooked again.  And then they went and killed off that Doctor just as I was getting invested in him and replaced him with yet another Doctor.  Then I started the whole process again, trying to get reinvested in a character that keeps changing on me.  And did I mention the Doctor's traveling companions?  They get swapped out every season or two.
And this is, essentially what's bothering me, as a storyteller, and why I curse the show while still loving it.  How on earth do you have a series as successful and long-lived as Doctor Who when you regularly and systematically purge the cast of characters?  It defies what I know about storytelling, about how you sustain a reader/viewer/listener's interest – you get them to care about your characters – and leaves me feeling that I'm missing something.  The popularity of the show is undeniable, so they're doing something right.  I just don't know what it is.  But I want to figure it out, because in spite of the frustration, and the effort it takes to follow a show that has seen three different doctors in the last five seasons, I'm still watching it.
What about you guys?  Do you watch Doctor Who?  And if so, how do you think they pull it off?