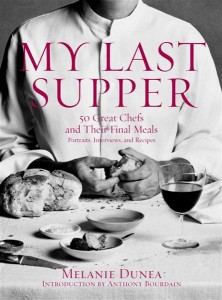 I was listening to a Radiowest podcast on photographer Melanie Dunea's new book My Last Supper.  In it, she asks 50 famous chefs a few seemingly simple questions about what they would like for their last meal in life.  What would they eat?  Who would prepare it?  Where would they eat it?  Who would they eat it with?  Their answers reveal a lot about what food really means to us.
I've spent some time thinking about how I would respond to those questions.  My answers right now might have been different a year ago, and might even be different tomorrow, but here goes…
For my last meal, I want a traditional Hawaiian luau.  Not one of the cheesy tourist luaus you get in the Waikiki hotels.  I want a real luau.  I want lomi-lomi salmon, poke, poi that's about a day old, butterfish laulau, rice, and (of course) kalua pig.
That last one is very important, and I want to be there when the pig comes out of the smoking, steaming ground.  When the chicken wire can barely keep the fall-apart meat together.  When little bits of crispy skin stick to the wire as you unwrap the pig, and you pick them off and eat them on the spot.
I want live music.  Slack key guitar, ukulele, and traditional Hawaiian folk songs.  Just real people singing real music with each other.  (Hmm. "Real" is becoming a theme, here.)
I want my wife there, most of all, and my family and friends.  The great thing about picking a luau for my last meal is that I can have hundreds of people there to share it with.  I want it up in Waimea on the Big Island, and I want everyone to prepare it together.  Cooking for me is as social an activity as eating.  I love cooking with my wife.  I love big family get-togethers where everyone chips in.  And after the food is prepared, we all sit down and enjoy.
So, that's my last meal.  What's yours?